Practically everyone dreams of living in a luxury home someday. In Beverly Hills, that dream becomes a reality every day. Of course, the notion of what is considered luxury real estate changes from time to time, and that's what keeps things interesting.
Trends in home design
A century ago, a luxury home in Los Angeles boasted a Model T in the garage and a radio in every room. By 2020, savvy home shoppers had come to expect more. It goes without saying that luxury homes in Beverly Hills include ample parking for any sort of vehicle, but that simple radio may no longer suffice. Affluent home buyers look for things that are superior in every way.
Exterior design trends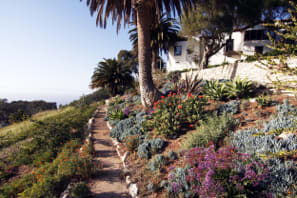 Natural building materials such as adobe, stucco, and red tile roofs have always been popular here in Southern California. In 2020, the trend continues. Especially popular now are rough-textured concrete walls, drought-tolerant xeriscape, and infinity pools that seem to go on forever.
Swimming pools are always en vogue, but the trend today is toward smaller, more intimate watering holes. In lieu of an Olympic-sized pool with a diving board, many homebuyers seek a narrow lap pool or lounging pool that offers a lovely place to dip one's toes on a hot summer day without all the maintenance that goes into a typical backyard swimming pool.
Outdoor spaces that recreate the comfort of indoor living are on luxury home must-have lists in 2020. Kick off your shoes and relax on weather-friendly canvas upholstered furniture strewn with plump, gem tone pillows. Portable fire pits equipped with screen safety covers are a perfect addition to any outdoorsy living space.
Interior luxury trends
When it comes to luxury kitchens, there's no such thing as too many built-in appliances. Home chefs and visiting caterers enjoy doubling up on ovens, stovetops, and copper sinks. As far as luxury baths are concerned, the more the merrier. 2020 luxury bath trends include wrap-around patterned wallpaper and ornate, rose-gold fixtures.
Color trends in 2020 include warm pastels, moody hues, and elegant organics. Cooler colors such as blue and gray are giving way to peach, deep taupe, and oatmeal advises Elle Decor magazine. Interestingly, black and white are making a comeback, especially for kitchen floors.
Smart houses, smart security
From shrewd security to remote-controlled climate control, the smarter a luxury house is, the better. Automated homes are no longer the stuff of science fiction. Today, virtually every sort of electrical gadget, including air conditioners, lights, and surveillance cameras can be monitored or controlled from a distance with the homeowner's smartphone. Personal protection features trending in 2020 include doorbell cameras, motion-activated interior and exterior lights, and surveillance cameras that watch the perimeter of a property.
Let Valerie & Her Team Help You Find Your Next Luxury Home
No matter what your idea of luxury, Valerie Fitzgerald Group can help you find your ideal home. We are pleased to present a splendid selection of luxury homes in Beverly Hills, Bel-Air, Brentwood, Venice and other very nice neighborhoods.
08/20/2020